The Commentary on Habakkuk Scroll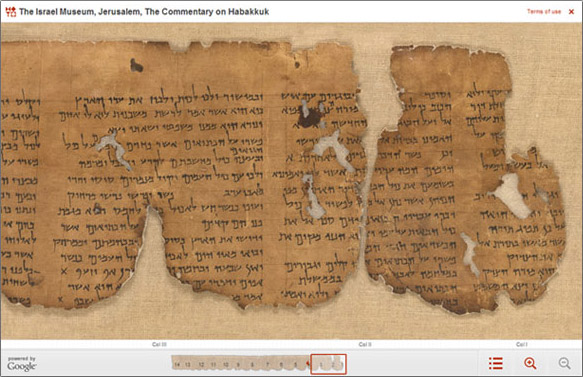 Click to examine the scroll.
The Commentary on Habakkuk Scroll (1QpHab) • Qumran, Cave 1 • 1st century BCE • Parchment • H: 14; L: 148 cm • Government of Israel • Accession number: 95.57/28
The Commentary on Habakkuk (Pesher Habakkuk, 1QpHab), is a relative complete scroll (1.48 m long) and one of the seven original Dead Sea Scrolls discovered in caves of Qumran in 1947. It interprets the first two chapters of the biblical book of the prophet Habakkuk and comprises 13 columns written in Hebrew, in a clear, square Herodian script. However, the tetragrammaton, the four-letter, ineffable name of God, is written in ancient Hebrew characters, unlike the rest of the text. The scroll has been dated to the second half of the first century BCE.
In this work, the verses of the biblical book are copied paragraph by paragraph, in their original order. The scriptural text of Habakkuk on which the commentary is based, however, appears to be at variance from time to time with the Masoretic text. Each paragraph is accompanied by a commentary, introduced by the Hebrew word pishro, "its meaning," or pesher hadavar al, "the meaning of the matter is in regard to." The commentary uses a prophetic style to address events of the author's time.
Two major subjects are treated in this composition. One relates to the internal religious politics of Jerusalem and the Temple priesthood, and the other – to the repercussions of the appearance of the Romans (called in the work Chaldeans or Kittim) on the historical scene. As in most of works of this genre, no historical personages are mentioned by name, but there are allusions to such individuals as "the Teacher of Righteousness," "the Wicked Priest," "the Man of Lies," and others, whose exact identities have yet to be established.
This exceptionally well-preserved scroll is a key source of our knowledge of the spiritual life of the secluded Qumran community. It sheds light on the community's perception of itself and serves as paradigm against which other examples of this genre (such as Pesher Nahum or Pesher Micah) are evaluated.